Winter Tennis @ Borden Park
Over the past year the Capilano Tennis Club Society (CTC Society) and Tennis Clubs of Canada has been working with the city of Edmonton on a project to bring Winter Tennis to Borden Park.
The discussions have now reached a point where the communities surrounding Borden Park need to offer their thoughts on this proposed project.
Purpose:
The purpose of this page is give the surrounding communities of Borden Park an opportunity to share their feelings on indoor winter tennis at the Borden Park.
This page also gives you an opportunity to:
View the rendered drawings
Review the business plan for the project
Provide feedback.
Background:
Since 2020 the CTC Society has been in discussion with Tennis Clubs of Canada to put an air structure over the courts at Borden Park to provide public Winter Tennis to the Edmonton Metro area.
An air structure would provide much needed public access to tennis courts in the winter for the Edmonton metro area.
Current Situation for Public Access Winter Courts in Edmonton:
Currently the city of Edmonton has the highest lack of availability rate (among major cities) for public indoor courts in North America (1 per 70,526) by comparison the city of Calgary has a rate off 1 per 41,515 and the city of Red Deer has a rate of 1 per 25,000. 
Currently Alberta is fourth lowest in the Canada with Newfoundland, Saskatchewan and Nova Scotia providing more public courts for winter tennis than Alberta.
Here are the rendered drawings of how Borden Park will look for Winter Tennis: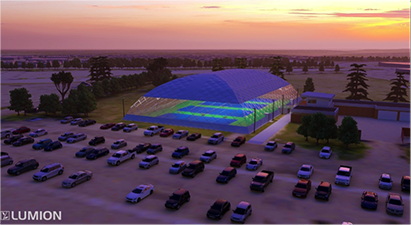 Possible Items to be placed here:
Community Engagement Survey
Email address: wintertennis@capilanotennis.ca